Agrumes (Les)***
Address

: 2 allée des Filaos Petite Plaine, 97431 Plaine des Palmistes (La)
show map
Location: Plaine des Palmistes
Location : Plaine des Palmistes / Les Plaines

Guesthouse

In La Plaine des Palmistes, Les Agrumes is a small Creole house in corrugated iron.
It has 2 Gîtes de France-approved double bedrooms with the option of adding an extra bed. The rooms can each accommodate a couple and one child.
Facilities and services
General facilities

2 room(s)

Bedlinen included
Compare "Agrumes (Les)***" with similar alternatives
Location : Plaine des Palmistes / Les Plaines Mountain and Trekking Hostel Le Pic des Sables offers overnight accommodation consisting of a dormitory sleeping 10 people and a family room for 4 people. Towels are not included.It has a fireplace. Access for people with reduced mobility. Mountain bikes can be hired on-site for full-day or half-day explorations. It is ideally Situated near the canyoning sites of Bras Noir, Takamaka, Dudu, Trou de Fer and the forest of Bébourg. Shops are situated approximately 3 km from the gîte. Pets not allowed.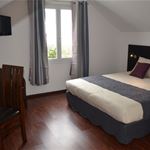 Location : Plaine des Palmistes / Les Plaines Guesthouse Chez Bea, located at approximately 1,000 m above sea level, in La Plaine des Palmistes, in the heart of the National Park, is the starting point for numerous treks and places to visit. Chez Béa has 2 guesthouses labelled Gîtes de France and classified 3 épis (ears of corn). Bedrooms are spacious and attractively decorated, equipped with TV, heating, hairdryer and private bathroom. The living areas are available for the use of guests so they can find out and exchange information about different activities.
Location : Bourg Murat / Les Plaines Guesthouse Set in the Plaine des Cafres, Clément Alicalapa-Tenon offers five rooms with all modern conveniences. Enclosed yard. Close to the volcano, main tourist sites and activities, hiking trails, and petrol pumps. Table d'hôte meals available. The meal includes a glass of house punch, starter, main course, dessert, drinks, and a rhum arrangé. Traditional and original Creole dishes based on vanilla and kaffir limes. Half-price meals for children under 10.