Kaz Koz Kozé (La)***
Address

: 47, rue Incana Ermitage les Hauts, 97422 La Saline
show map
Location: Ouest
Location : La Saline / Ouest

Holiday Rental

Enjoy the intimate tropical atmosphere at la Kaz Koz Kozé (the cabin for chatting) lounging in the hammocks alongside the banana, coffee and kaffir lime trees and other paradisiacal scenery or under the colourful covered terrace.

97 m², self-catering cottage adjoining owner's property, with garden, filled with trees and flowers (palm trees, bougainvilleas, passion fruit etc,) a 40 m² covered terrace with eating, sitting and rest area, 3 themed double attic bedrooms on upper floor (volcano, tropical forest, Indian ocean), including one with shower and wc, bathroom with living wall of orchids and Italian-style shower, wc, sitting-living room, mezzanine with reading area, games and fully equipped kitchen.
Fans in the rooms.
A spa and a massage table is also avaible for free.
Facilities and services
General facilities

3 room(s)

Washing machine

Outdoor grill/BBQ area

Bedlinen included

Room facilities

Refridgerator

Dish washer
Compare "Kaz Koz Kozé (La)***" with similar alternatives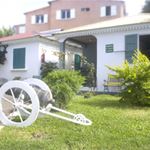 Le Vieux Canon de Saint-Paul" is labelled ""Gîtes de France"" and offers 2 B&B rooms set in Saint-Paul, up in the hills, near the owner's house.
Location : Saint Gilles les Hauts / Ouest Holiday Rental In the shadow of centenary litchi tree, calm and rest are essential. Le Vieux Flamboyant is a self-catering cottage with local architecture, leant against the outbuildings of an old creole house, labelled Gîtes de France. Visits : musée de Villèle, Stella Matutina, jardin d'Eden, conservatoire botanique des Mascarins. Hiking : le Grand Bénare, les Cormorans.
Location : Saline-les-Bains (La) / Ouest The charming Swalibo hotel, a green and silent oasis, is only 70 km from the airport. The beautiful hotel inmidst tropical vegetation is decorated with wood, leather and wrought iron work.