Rivière des Remparts (Gîte de la)
Address
: Rivière des Remparts Roche Plate, 97480 Saint-Joseph (
show map
)
Location: Sud Sauvage
Location : Saint Joseph / Sud
Mountain and Trekking Hostel

At the heart of the island's traditions… Situated in the rural Sud Sauvage (Wild South) region, the ""hamlet"" of Roche Plate-Rivière des Remparts, exudes a deep tranquillity, nestling in a hollow of the mountain side.
In a small ""Iontan"" (Old-Time) village, only accessible on foot (from the Nez de Boeuf on the volcano), close to beautiful ponds and a fishing spot for wild trout, the Gîte de Roche-Plate-Rivière des Remparts (not to be confused with Roche Plate-Mafate) has one bungalow for 16 people (2 bedrooms for 8 people) and one bungalow for 15 people with 3 bedrooms for 2 people, 1 bedroom for 3 people and a mezzanine with 6 places. Towels are not included. The gite offers sanitary facilities. Available hot water and electricity depend on the solar energy. As the electrical energy is solar , it is limited. It is also impossible to recharge your camera, handy, video camera etc… Please make arrangements for this.
Jacqueline offers authentic cuisine cooked over a wood fire: Choca bleu (blue agava), home-made smoked pork, papaya achard vegetable pickle, home-made fruit juice, cakes, seasonal fruits and home-made punch. Crepes for breakfast. For security reasons it is impossible to reheat meals or to do the cooking oneself. The kitchen is not at customers' disposal.
This gite belongs to the Mountain Gîte Managers Association (AGGM). Pets not allowed.
Compare "Rivière des Remparts (Gîte de la)" with similar alternatives
he Case Cardinale is a well-equipped Creole house, located near the forest road, leading to Piton de la Fournaise volcano. Quiet and a complete change of scene guaranteed, in a place that really lives up to its name: Notre Dame de la Paix (Our Lady of Peace). The villa, which can accommodate 6 people with ease, comprises a living room with wood burner, TV and free Wifi, dining room with American-style kitchen, 3 double bedrooms with additional electrical heater, including one bedroom with extra beds, shower room and separate wc. A separate kitchen area with wood fire and barbecue is available for guests, ideal if you enjoy traditional cuisine. La Case Cardinale is ideally located so you can enjoy the main attractions of the Plaine des Cafres: the Bois Court viewing point, Grand Bassin village, the Maison du Volcan museum, the Piton de la Fournaise, Notre Dame de la Paix botanical trail and numerous sporting activities: mountain biking, horse-riding, hiking, quad biking, boules etc. The spiked tips of the forest trees, stirred by the breeze, provide cool, soothing shade for the choir of birds (A. Lamartine - Un lever de soleil (A sunrise))
Near Route du Volcan, in a quiet villa, Les Hortensias offers 4 guest rooms. The rooms are located on the first floor of the owner's house with separate entrance. They are equipped with private bathrooms. The common room for breakfast is in the owner's house.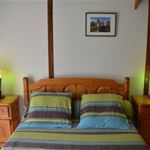 Location : Saint Joseph / Sud Guesthouse Nestling in a welcoming Creole case (cottage) at the heart of the village, L'Eucalyptus offers a relaxing, tranquil and fragrant. L'Eucalyptus offers 2 B&B rooms for 3 people, awarded the Gîtes de France quality label. Situated near the owner's house. 15 km from the centre of Saint-Joseph and 7 km from all amenities.