Central Hôtel**
Address

: 37 rue de la Compagnie, SAINT DENIS 97400
show map
Location: Saint Denis
A hotel in the heart of Saint-Denis.

With its ideal location in the heart of Saint-Denis town centre, the Central Hotel is just the right place for combining business with pleasure, near shopping streets, cinemas, restaurants and administrative services. The hotel makes a perfect stop-off for anyone who has come to La Réunion to appreciate the island's way of life, get to know its customs, enjoy its spicy cuisine, and explore its magnificent landscapes. Located in the heart of the administrative capital, 10 minutes' drive from Roland Garros Airport, the hotel has 57 comfortable, air-conditioned rooms available, equipped with direct-line telephone, colour television (Canalsat with 12 channels), safe, free wi-fi and minibar in some categories of rooms. Laundry service. Breakfast included in room rate. Free Internet on the terrace. Since January 2013 a tourist tax of 0,60 € is to be paid per person and per night.
Compare "Central Hôtel**" with similar alternatives
Discover a heaven of peace stepped in history where you'll spend a stay in total tranquility and where you'll be surprised by the refined atmosphere. In this family Creole house of more than a century and located in a lush green setting, guests will admire nature, enjoy a bird's-eye view of the sea , meditate far from the stress and noise, go hiking , have a massage (on request) , play golf, delight their taste-buds
Location : Saint Denis / Nord Mountain and Trekking Hostel Gîte de la Roche Ecrite is a mountain gite set in the midst of a forest massif in the ""Plaine des Chicots"" locality, in a listed Nature Reserve in the heart of the National Park. The gite can sleep up to 28 people, with beds divided up into several dormitories: 3 dormitories sleeping 8 people and one dormitory for 12 people.Towels are not included. The gite offers sanitary facilities. Available hot water and electricity depend on the solar energy. As the electrical energy is solar , it is limited. It is also impossible to recharge your camera, handy, video camera etc… Please make arrangements for this.Pets not allowed. Good Creole meals available, and breakfast prepared by the gite's manager upon reservation, extra. For security reasons it is impossible to reheat meals or to do the cooking oneself. The kitchen is not at customers' disposal.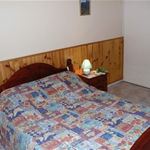 Location : Dos d'Ane / Ouest Guesthouse Les Acacias has 2 ""Gîtes de France"" rooms accommodating 2 people, one of which is accessible to persons with reduced mobility, both with views of the sea and located in the owner's house, 30 km from the town of Saint-Denis. Table d'hôte meals upon request.