Bulle verte (La)***
Address

: 91 chemin Piton Filaos Mont Vert les Hauts, 97410 Saint Pierre
show map
Location: Saint Pierre
Location : Montvert les Hauts - Saint Pierre / Sud

Guesthouse
Located at 20 min from Saint-Pierre, La Bulle Verte offers 3 B&B rooms.

The rooms are spacious and have private bathrooms with balneo bathtub or Italian shower. A Jacuzzi, a tropical garden as well as a table d'hôtes are at custmers' disposal. La Bulle Verte is situated in a quiet and relaxing setting. Rates don't include tourist tax.
Compare "Bulle verte (La)***" with similar alternatives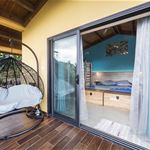 In Petite -Île in the Sud Sauvage, Case Beauregard has 2 guesthouses available for rent including one triple and one double room. The rooms are equipped with fan,TV, heated towel rail and separate terrace. The accommodation offers a 180° panoramic view of the ocean from Grande-Anse to Saint-Pierre and over Piton Mont Vert. Fridge-freezer and microwave at guests' disposal.
Welcome, feel like at home ! The tone is given, wide smiles and cheeky eyes, Christine, Jean and their son Hoarau welcome you in their paradise. Farmers, beekeepers, orchidologists, it's in august 2008 that Christine and Jean opened the doors of their cottage named the Orky-mel. What a very pretty name to describe their shared passion for flowers and the honey reaping!
Location : La Ravine des Cabris / Sud The owner offers the rental from 3 nights. Independent gite, very peaceful setting, fenced garden, fully equipped kitchen, and terrace. Visits to the sugarcane plantation possible, with explanation of the successive stages of cultivation from planting to dispatch to the factory.